Wildlife on the Isle of Skye: Sea Life.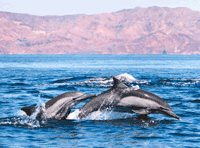 Wildlife is abundant in the seas that surround the Isle of Skye. Although spotting some of the rarer sea life on your boat trip from Elgol can't be guaranteed (except for the trustworthy seals! They are always around posing for photos!), there are many interesting sightings every season. Many people don't realise that the waters around the Isle of Skye are rich with sea life.
Basking Sharks are large plankton feeders – the second biggest fish in the world after the Whale Shark (yes, bigger than even the Great White Shark… though thankfully friendlier too!). It is a wonderful moment when you see one as they tend to come near to the boat as we sit taking photos – they are friendly and inquisitive rather than frightened. Their good nature is a bonus for passengers, but a problem for the sharks explaining in large part the reason there are now so few left: they were such easy prey for hunters around the middle of last century. If you have a chance to take one of our trips out around the Isle of Soay you can still see the old remains of the Basking Shark fishing station set up there by Gavin Maxwell.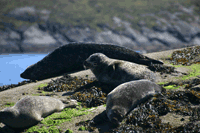 Dolphins and Porpoises also frequent the waters around the Isle of Skye between Elgol and Loch Coruisk and are very photogenic and a huge favourite with children. We see both the common dolphins and the bottle nosed dolphins and both are incredibly playful around the boat delighting passengers with their incredible acrobatics! Porpoises are more frequent but unfortunately not as sociable as the dolphins!
Minky Whales occasionally appear in the waters as well (and we even have rare sightings of other types of whales) – another sighting which cannot be guaranteed, but which makes a lovely bonus for passengers when they do make an appearance!
We have had the occasional sighting of the amazing sunfish and although it is highly unlikely you will see one it is always worth keeping an eye out for these incredible tonne-weight fish!
And then, there's the seals! Because Seumas has been taking passengers from Elgol since 1967 he knows where all the seals are and also how near the boat can go without frightening them. We take the safety and well-being of the seals – and other wildlife – very seriously.
The seals are always there ready to have their picture taken, and often to give the passengers a wave! It is a treat to come with us during June and July when their pups are still small.
Wildlife on the Isle of Skye: Birds.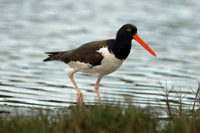 On your boat trip to from Elgol you will be in an ideal situation to see a huge variety of bird-life. Every year we have very occasional sightings of Sea Eagles above the landing steps which lead to Loch Coruisk but the Golden Eagles are more common around our part of the Isle of Skye. We always see Common Shags and almost always see Oyster Catchers as well as various types of Gulls. Sometimes, depending on the time of year, we see Cormorants, Black Guillemots, Common Guillemots, Razorbills, Manx Shearwaters, Puffins, Ravens, Buzzards, Great Northern Divers, Red Throated Divers, Black Throated Divers, Shell Ducks and Eider Ducks – and that's just a taster of some of the types of bird life we see between Elgol and Loch Coruisk!
We have various bird watching books on board and binoculars just in case something rare pops up. And you may be lucky enough to be there on a day when our friend, Bob McMillan, is on board. Bob is the author of the book, "Skye Birds" and will be able to help you in any questions you may have about even the rarest birds on Skye.
For more information on bird watching on the Isle of Skye, check out Bob's website www.skye-birds.com.