Loch Coruisk on the Isle of Skye – A Source of Inspiration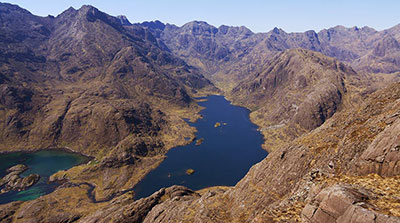 Loch Coruisk truly is inspirational. The Isle of Skye is famous for its local music and culture, and probably the most famous song which mentions the island is "The Skye Boat Song". Few, however, realise that there is a direct connection between the Skye Boat Song and Loch Coruisk. It was whilst being rowed along the loch on a trip to the Isle of Skye during the 1790s that Miss Annie MacLeod first heard the Gaelic air "Cuchag nan Craobh" being sung by the rowers. Miss MacLeod wrote down the music as she remembered it and the lyrics were later added by Sir Harold Boulton. In 2012 Misty Isle Boat Trips crew Stuart Mackinnon spoke of the history of the Skye Boat Song and its connection with Loch Coruisk on Radio Four. This was for the program 'Soul Music' and you should be able to find it on BBC iPlayer if you want to hear more.
Loch Coruisk is also the scene of one of JMW Turner's paintings, and a focus of the writings of Sir Walter Scott and Boswell and Johnson. They were all struck by the beauty of the area while they travelled the Scottish Hebrides. Many have visited over the years, especially following the visit of Sir Walter Scott as a result of his famous description of the Loch.
With a history like that, who knows what artistic achievements you may be inspired to accomplish during your visit!
The Loch Coruisk Memorial Hut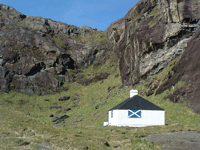 The only building nearby is the "Loch Coruisk Memorial Hut" which lies about 100 metres from the landing steps at Loch na Cuilce. The hut was built in 1959 by Lachie Mackinnon, father of Misty Isle skipper, Seumas. Seumas' earliest memories of Loch Coruisk were the days he and his father would camp for a few nights at a time during the building of the hut, and of being at the opening of the hut as a youngster.
This was to be the beginning of a life-long love of the Loch and only 8 years later, in 1967, Seumas began running boat trips from Elgol to Loch Coruisk for the many tourists keen to visit the area.
Have a look at our Loch Coruisk Memorial Hut page for pictures of the hut and to find out more about it.