The Mackinnon Family, Skipper & Crew
Mackinnon clan finds its home in Elgol on the Isle of Skye and it is in Elgol that Seumas and Anne live and run their boat trips. Come and experience a warm Highland welcome from our small group of folk – not all of whom are able to claim the Mackinnon name (they rest just wish they could!). Anne and Seumas have spent their lives in Elgol and visiting Loch Coruisk and have a passion to share it with you! As you will see we are very much a family run business, and will do all we can to make your boat trip a memorable one and to live up to our reputation of providing 'the trip of a lifetime!'
Seumas Mackinnon – The Misty Isle Skipper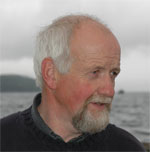 Seumas Mackinnon is the highly experienced skipper of the Misty Isle. Born in Elgol and having lived there his entire life, Seumas has a wealth of local knowledge. His earliest memories of Loch Coruisk are when he accompanied his father, Lachie Mackinnon, as he built the Loch Coruisk Memorial Hut in 1959. He has spent most of his life at sea fishing and running boat trips from Elgol – he began running the Elgol to Loch Coruisk in 1967, originally running the trips in his 21′ launch 'Apollo'. Seumas still takes a walk up to Loch Coruisk itself most days he is over so has been to Loch Coruisk many thousands of times.
Seumas is a descendant of John Mackinnon who famously ferried Bonnie Prince Charlie to safety after hiding him in a nearby cave in July 1746. It would be hard to find a skipper with more knowledge and experience of local conditions, and impossible to find one with anywhere near the knowledge of Loch Coruisk itself.
James Robertson – Skipper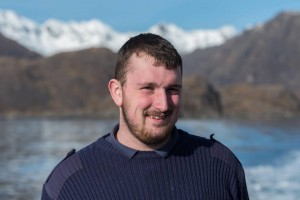 James grew up in the Sleat area to the south of the Isle of Skye. Since he was a wee boy James spent every moment he was able at sea. Much of his school holidays were spent working on fishing boats on the waters around Skye and the small isles. There was only ever one serious option for James to pursue on leaving school and that was a life at sea which he has found at the wheel of the Misty Isle fleet! James is very popular amongst the tourists for his dry sense of humour and has vast local knowledge. Of course his favourite topic is boats so, for your own sake, don't get him started on them!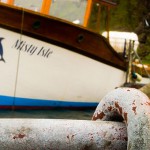 Seumas' wife, Anne Mackinnon, unfortunately doesn't get over to Loch Coruisk too often as she is usually stuck behind the window of our new white kiosk at the top of the jetty taking bookings and giving out the tickets, as well as telling folk what to expect as they head out to Loch Coruisk.
If you're really lucky you might also get to meet Eachan – the most photographed dog in the world! Eachan helps Anne out at the kiosk by posing outside and always draws a crowd. Eachan (Gaelic for 'Hector') is a beautiful and very playful Old English Sheepdog. But be warned, if you start to pet him he may not let you go!
Seumas Mackinnon – Misty Isle Crew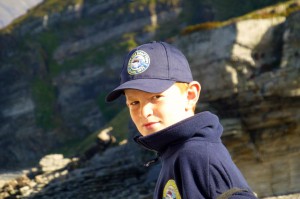 Stuart, skipper Seumas' youngest son, works full time as the crew on the Misty Isle. Stuart was born and brought up in Elgol where he lives with his wife, Glenda, and their children, Calum and Heather. Years of experience as a preacher have proven very helpful for Stuart as he seeks to share his knowledge and love for the area with visitors. He enjoys walking and photography and makes a great hot chocolate!
Stuart has been visiting Loch Coruisk with his father since he was a baby. He has a good deal of experience at sea (both as a crew and a fisherman) and his vast knowledge of the area coupled with his mischievous sense of humour has earned him a reputation for providing lively and entertaining on-board commentary.
Our 'Biscuit Distribution Team'
Seumas, Calum, Heather, Shaun & Calvin Mackinnon!

The Misty Isle Biscuit Team from left to right: Seumas, Calum, Heather, Shaun (with Eachan!) & Calvin Mackinnon
Pictured above are our dedicated and professional 'biscuit distribution team'! Though they are not always at work (they do need to go to school and nursery from time to time!) you may well be lucky enough to sail with us when one or more of the team are present! All the team are Seumas and Anne's grandchildren (Calum, Heather and Calvin are Stuart's children) and all are highly trained and skilled at helping you to choose the right biscuit! Seumas Beag ('little Seumas' – the one on the left!) is the Head Biscuit Boy and uses his skill and experience to train the younger ones! He even does bits of the guide talk sometimes! They are a very valuable part of the Misty Isle team (especially because they are paid in biscuits and juice!!)