Wildlife Boat Trips on the Isle of Skye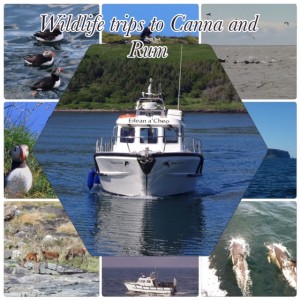 Wildlife Boat Trips are increasingly popular with visitors to the Isle of Skye and the Scottish Highlands. We offer fast cruises to the wonderful Small Isles scattered off the South West coast of Skye. We run trips twice daily to either Rum or Canna on the most recent addition to our fleet, the MV Eilean a Cheo. She is driven by two 250hp Cummins engines so she is fast but she is also fully equipped for your comfort and enjoyment. There is seating on the deck and in the heated wheelhouse. She has an on board toilet and complimentary teas/coffees etc are available at any time throughout your journey. We can also take you to visit the Isles of Soay, Eigg or Muck or any other destination of your choosing.
We can offer fast early drop offs and late pick ups for those who wish to spend longer in the Cuillins. Half day and full day charters are available providing a great platform for film crews and filming is often done in the area.
If you are not able to spend a long time in the area we can take you around the Isle of Soay or over to the Cuillins to see the seals. The Eilean a' Cheo gives us tremendous flexibility to cater for most of your Isle of Skye boat trip needs so whatever you would like to do give us a call and we will do our utmost to meet your requirements.
We can also take you on fishing trips or a personal tailor-made boat trip of you choice! As always our trips are unrivalled in quality or price. All our boats have an on board toilet. There is room to move around to get the best views of any wildlife we come across and tea/coffee/hot chocolate will be available at any time during your trip at no extra charge. Have a browse and plan your ultimate day out with wildlife boat trips on the Isle of Skye.
Wildlife in the area.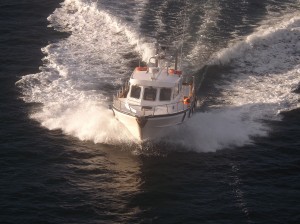 During the nesting season we see puffins on every trip and dolphins on many of our island trips. We also have many white tailed sea eagle sightings both at Canna and Loch Coruisk as well as minke whales and basking sharks. Once in a while we even get treated to a cruise with an orca! Click here to see the moment an Orca decided to come and check out the Eilean a Cheo. 

During the nesting season it is likely that both trips of the day will be heading out to see the puffins on Canna as they are so popular with everyone but trips to Rum to see the BBC 'Autumn Watch' red deer and to visit Kinloch Castle can also be arranged. In fact if there is anywhere else you would like to visit please just ask us as the boat is licensed to a very high standard, Cat 2, enabling us to travel up to 60 miles from a safe haven, and as with all our trips we not only offer by far the best experience but also by far the best value available anywhere in the area.
Normal departure times for these trips will be at 9am/10.15am/12.45pm/1.30pm although other times are available. Please ask. Times may vary slightly but you will be informed when you book. Booking for these trips is essential and can be done by phone: 01471866288 or email. For more information see our times and prices page.