Our Boats: The Misty Isle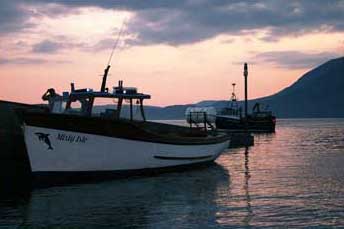 As featured on ITV1's program, "Britain's Favourite View" the 'Misty Isle' is the perfect boat for the Loch Coruisk Boat Trips – a beautiful 41′ launch maintained to the stringent standards necessary to achieve its MCA (Maritime and Coastguard Agency) class VI License, including undergoing 2 MCA inspections every year.
A Traditional Craft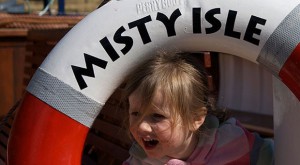 A traditional craft with classic lines, the Misty Isle is the perfect vessel from which to enjoy the beauty and tranquility of Loch Coruisk and the Cuillins.
The Misty Isle uses very little fuel therefore leaving a small carbon footprint. This makes her friendlier to both wildlife and the environment which is always a concern – especially in the area around Loch Coruisk – a place of such natural, untainted beauty and tranquility. The Misty Isle had a new engine fitted during the winter of 2008 so is now even more fuel efficient.
The Misty Isle was built by Mitchells of Mevagissey and was originally used to run boat cruises from Poole to Brownsea Island. Before coming to Skye she was running boat trips to Brownsea Island from Swanage as the 'Maid of Sandbank', owned by Lenny and Roger Marsh.
Our Boats: The Heather Grace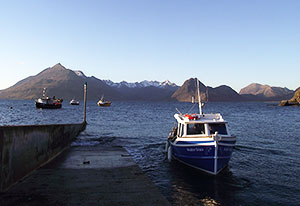 The Heather Grace is the latest addition to our fleet. Heather Grace began her trips in February 2013 and will be running boat trips from Elgol all year round – mainly to Loch Coruisk but also to the Small Isles of the Inner Hebrides and various other trips tailored to your requirements.
Heather Grace is s a 32ft carvel boat built by Ron Berry of Weymouth and prior to our bringing her up to the Isle of Skye she had worked all her life between Weymouth and Swanage. Coincidentally Heather Grace actually came from the same boatyard as Misty Isle so they've worked together (sort of!) for a long time and are now happily re-united at the other end of the country!
Our Boats: The Eilean a Cheo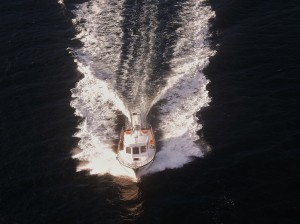 Our boat trips to Loch Coruisk are what we have built ourselves on and because of our family background and connections with the area it holds a very special place in our lives. However we also offer other exciting trips on our fast boat 'Eilean a Cheo'. The Eilean a Cheo provides the perfect combination of speed and comfort. She is able  to carry passengers to many varied island locations in very little time but also has the comforts of either out-door deck seating or indoor seating in a comfy heated wheelhouse! You can enjoy the thrill of speed whilst sipping on complimentary hot drinks! There's even a toilet on board!
The Eilean a Cheo is driven by two 250hp Cummins engines so she is fast but she is also fully equipped for your comfort and enjoyment with seating on deck as well as in the heated wheelhouse. She is licensed to a very high standard, Cat 2, enabling us to travel up to 60 miles from a safe haven, and as with all our trips we not only offer by far the best experience but also by far the best value available anywhere in the area.