Welcome to Misty Isle Boat Trips.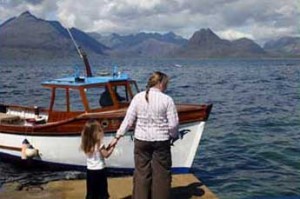 Misty Isle Boat Trips is a family-run business running boat trips from Elgol on the Isle of Skye to the famous Loch Coruisk in the heart of the Cuillin Hills. We also offer trips out to Rum, Canna or any of the other nearby islands giving you the chance to look for the wildlife which abounds in these waters.
You may have seen the late Charles Kennedy sailing with Misty Isle Boat Trips across to Loch Coruisk on the ITV program, "Britain's Favourite View".  If so, you will understand why Loch Coruisk and Elgol featured on a program with a name like that! Or you may have seen Blue Peter presenter Helen Skelton on board. Helen she interviewed us about our boat trips and the Isle of Skye and our family link with Captain John Mackinnon. He was the skipper who famously ferried Bonnie Prince Charlie from a cave in Elgol to safety back in 1747.
Seumas Mackinnon has had the pleasure of running passenger boat trips from the pier in Elgol to visit Loch Coruisk for nearly 50 years (since 1967 – the famous film director Alfred Hitchcock being one of his first!). He is often asked if, after so many hundreds of trips, he ever tires of the views of the Cuillins or of visiting Loch Coruisk itself. Seumas believes that it is impossible to tire of such a stunning and ever-changing part of the Scottish Highlands.
Loch Coruisk with Misty Isle Boat Trips – the trip of a lifetime!
When you visit the Isle of Skye, take time to sail with us from Elgol to visit Loch Coruisk where you will enjoy what has been described as "the best viewpoint in Scotland"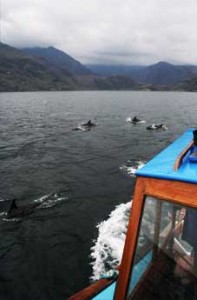 On your outward journey from Elgol you will visit the large colony of seals and see the famous 'Bad Step'. You will see a rich variety of sea birds and possibly golden eagles or sea eagles. Sightings of dolphins, porpoises, whales and basking sharks are also possible – sometimes in great abundance!
After your arrival at the breathtaking Loch Coruisk you will have plenty of time ashore for the short walk to the loch or just to enjoy the beauty and tranquility that surrounds you. There is a wide variety of trip lengths available to suit every need – anything from a short cruise over to Bonnie Prince Charlie's cave to an all day cruise to the inner hebrides, allowing you to stay ashore for anywhere between 10 minutes and 8 hours! We have a large variety of trips available on the 3 boats in our fleet – Misty Isle, Heather Grace and Eilean a' Cheo. Loch Coruisk with Misty Isle Boat Trips has been called "The perfect boat trip!" And now we can sail much further afield: More perfect boat trips to make your holiday on the Isle of Skye one to be remembered for a lifetime!
A welcome cup of tea, coffee or our now famous hot chocolate and a piece of shortbread (all free) await for your return journey from Loch Coruisk to Elgol.
We hope you will find this website to be a useful and enjoyable glimpse into what Elgol and Loch Coruisk have to offer. Please don't forget to follow us on Facebook and Twitter to keep up to speed with updated content. We put up plenty of photos and also some videos and news from Loch Coruisk, Elgol and further afield around the Isle of Skye.